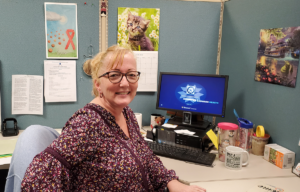 Broward Health: 30 years
CDTC: 18 years
Currently: Medical Care Coordinator, Comprehensive Family AIDS Program
---
Why are you passionate about social work?
I feel that social workers make a difference in people's lives. I also really enjoy the medical aspect as well as working with the mental health and substance use population. No two days are the same!
Why did you decide to become a social worker?
I wanted to be in a human services field. Working with people is rewarding. Becoming an LCSW seemed like the best fit for me.
What is the most rewarding part of your job?
There are so many parts that are rewarding. Helping to improve a client's motivation to make healthier choices,  providing services in times of crisis, and being that person that the client trusts to share their issues.
What advice would you give to someone pursuing a career in social work?
I would say do what you love and the rest will fall into place. Also, to keep in mind that there are so many different areas of social work to pursue, so find the one that makes you excited to be doing it!
Is there anything you wish more people knew about social workers?
I think social workers are often generalized as all doing the same kind of thing, when in reality there are many different roles for social workers, from clinical to administrative and non-profit to corporate.