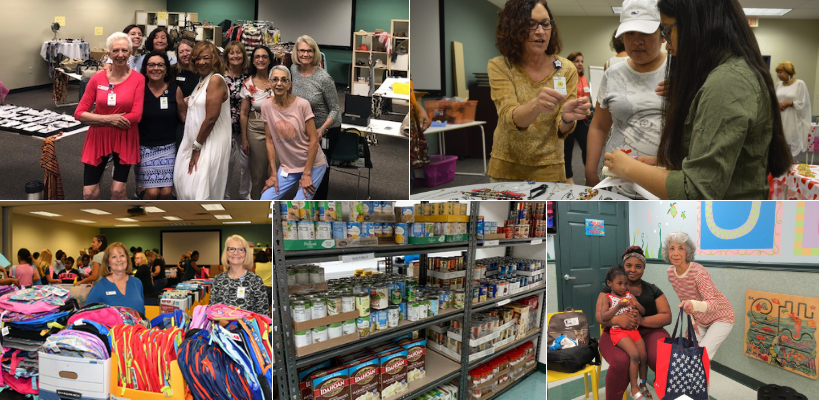 Who are the cdtc Sunflowers?
The cdtc SUNFLOWERS is a group of dedicated, like minded volunteers who "give back" and brighten the lives of children and their families. They are also ambassadors in the community, raising awareness about the difficulties of children with special healthcare needs and the amazing work we do.
Members are invited to an inspirational, quarterly social to learn more about the Center, meet our children and families, and get details about upcoming projects.
Annual dues are a tax deductible donation which provides basic funds for Sunflower projects including our Food Pantry, Diaper Bank, Back to School Drive, Holiday Toy Drive and Spark Joy events for CDTC families and mothers.
COVID Volunteering Update
For the safety and well-being of our patients and employees, Broward Health policy requires all volunteers to show proof of vaccination for COVID -19 by September 18, 2021 to participate in volunteer activities inside CDTC.
2022 Projects*
Food Pantry / Bee Healthy Shelf
Collecting and packing shelf-stable healthy food selections for families in our wellness clinic.
Spark Joy for CDTC Moms – Date TBA
Collection and giveaway of gently used purses and handbags for mothers of our children with special healthcare needs.
TOPWA Baby Shower – Date TBA
Assist with celebrating and preparing our new and expectant mothers in our TOPWA program. 
*Projects may be subject to change depending upon our families' needs.
Step 2 – Member Dues
Select your membership type and pay your dues.
You can mail a check with your application or pay online below.
Step 3 – Complete the Process
Return your application via mail or email. Once received, we will contact you to complete your application process and bring you up to date with upcoming projects.