Every time you make a donation to CDTC, you're investing in the health and well-being of the children and families in our care. Every dollar helps our doctors, nurses and care coordinators go beyond medicine into the heart of care.
We take that pledge seriously and we work hard to make your investment count in the best ways possible.
How far does that investment go?
We're proud to announce that our audits show $.96 of every dollar we receive helps provide a direct service to a child or family!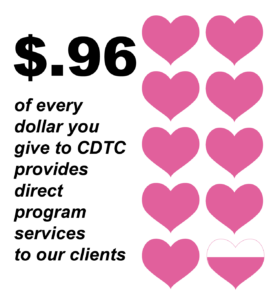 That means CTDC is operating at a 4% administrative and fundraising cost, well below the average 12.8%.
---
Make a gift today to help our kids continue to heal, thrive and succeed!

Only you can help CDTC go Beyond Medicine, Into the Heart of Care