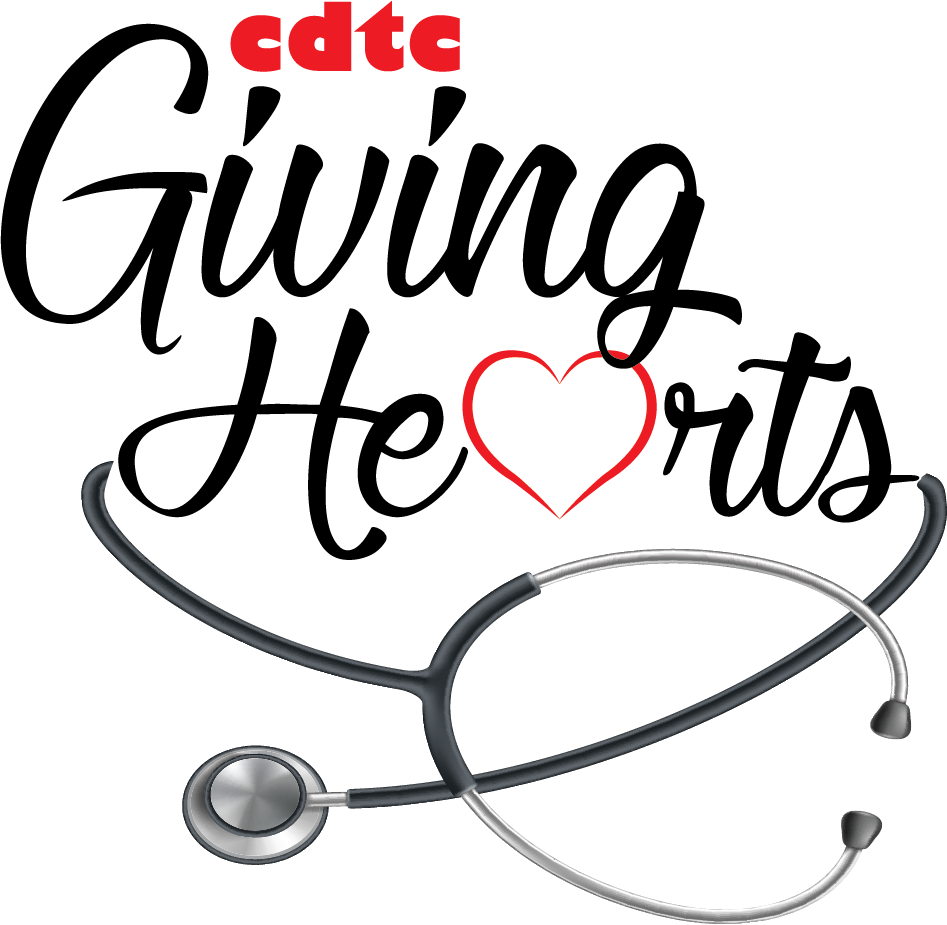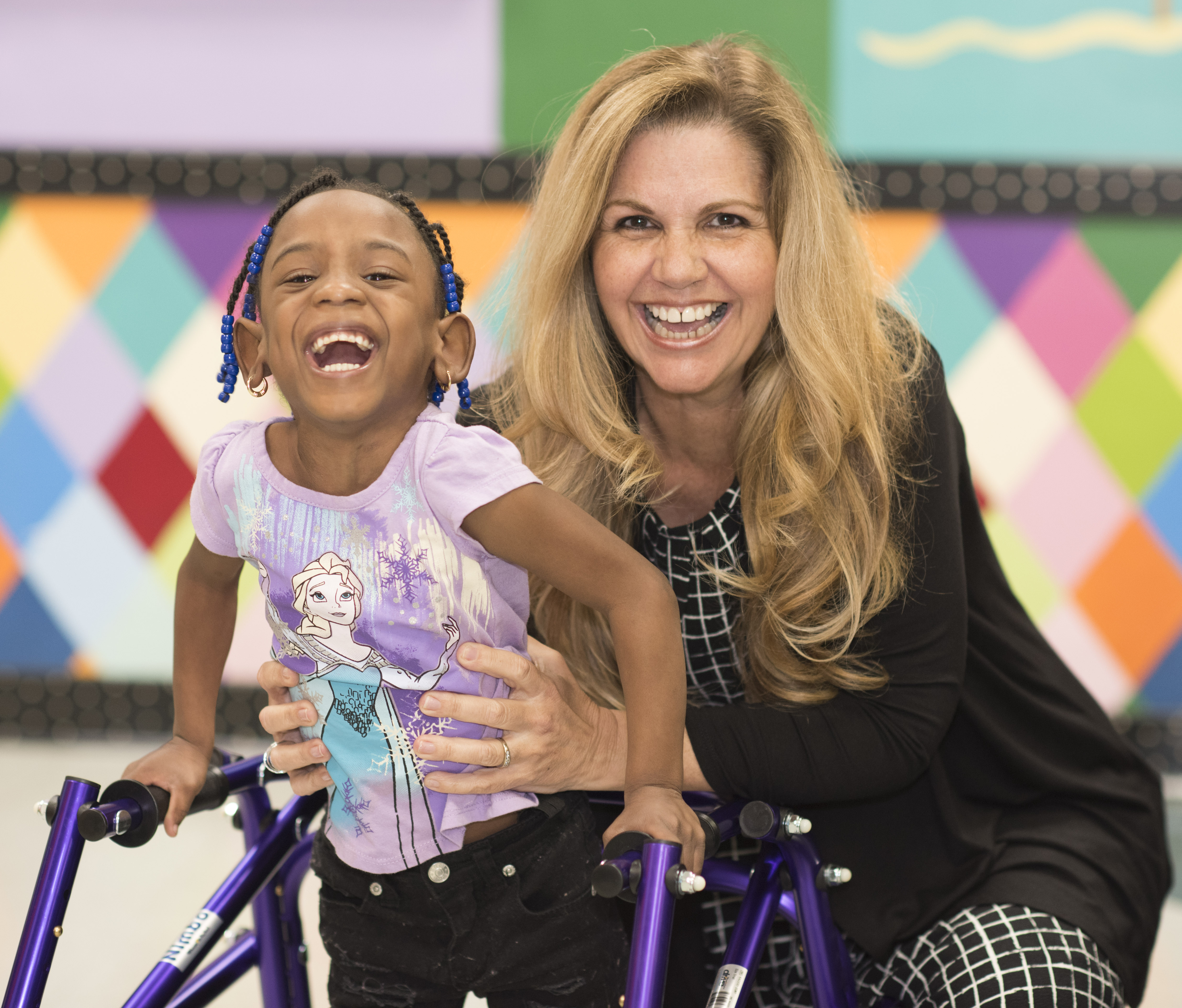 Welcome the the CDTC Giving Hearts!
Every time you make a gift to CDTC, you're investing in a child and their family. And that investment makes a difference.
Members of the CDTC Giving Hearts are individuals and groups who have made a commitment to affect the health and lives of our children for the better. This commitment begins with a minimum annual gift of $600.*
That's what it takes to cover the gap between insurance and the costs of the extensive, family-centered medical care, case management and social services our children with special healthcare needs require and deserve.  
2018 was our inaugural year, celebrating the impact our charter members have already made on the lives of our children and families.
Member Privileges
Opportunities for special, personal tours
Exclusive insider updates from CDTC Directors
Acknowledgement on the Center's web site and donor wall
Exclusive invitations to special events like our annual Giving Heart's Reception in the Spring
Exclusive invitations to CDTC education sessions & client meet and greets (Leader level or higher)
*Cash donations made directly to CDTC programs and services only. Sponsorships, event tickets, and event purchases do not qualify.  
CHAMPIONS ($25,000+)
Brace for Impact Fund of the Community Foundation of Broward
Broward Health
Broward Health Foundation
Galleria at Fort Lauderdale Men of Style
Gore Family Memorial Foundation
Millsaps Charitable Trust
The Charity Guild of Fort Lauderdale
The Harry T. Mangurian, Jr. Foundation
The James I. Coddington, Jr. Charitable Fund
of the Community Foundation of Broward
The Taft Foundation
United Way of Broward County
LEADERS
($10,000 – $24,999)
Jim & Judy Ambrose
American Express
Anesco North Broward
Broward Health Coral Springs
Medical Staff
Broward Health Imperial Point
Medical Staff
Community Care Plan
Dunkin' Joy in
Childhood Foundation
DxWeb
HealthRise
Hudson Family Fund of the
Community Foundation of Broward
Kiwanis Club of Fort Lauderdale Charitable Fund of the Community Foundation of Broward
MD Smith
Endowment Fund
Moss & Associates
Spirit Airlines
Charitable Foundation
The Jones Family Foundation
Ira & Penny Vernon
David Yanessa
AMBASSADORS
($5,000 – $9,999)
Commissioner Ray Berry
Broward Health Medical Center
Medical Staff
Broward Health North
Medical Staff
Gator Investments
Gordon Family Foundation
JM Family Enterprises
Leo Goodwin Foundation
Lynn Shapiro Snyder and Jeffrey M Snyder
Family Foundation
Our Fund
Simply Healthcare Plans
Mandeep Singh
Mitch & Anna Sokoloff
Kenny & Sandy Tate
The New Florida Follies
Susan M. Widmayer, Ph.D.
PARTNERS
($2,500 – $4,999)
Al Hendrickson Toyota
Todd & Stacy Angier
AssociatesMD
Becker & Poliakoff, P.A.
Berger Commercial Realty
Broward County Trial
Lawyers Association
Ellis Diversified
First Path
Alan Goldsmith
Holman Automotive Group
Hypower, Inc
I.L.A.H. Designs LLC
Intuitive Surgical
Keith & Associates
Sergio & Marilia Lafratta
Juliette Lippman
Lips Fort Lauderdale
Nelson Mullins
North Broward Radiology
Pier Sixty-Six Marina
Captain Lee &
Mary Anne Rosbach
SCP Health
The SHM Fund
SUPPORTERS
($1,000 – $2,499)
A.P. Williams, Inc
Akerman LLP
Daniel J. Alfonso
BankUnited
Todd Barna
Mary Beth Begley
Julie Berry
Norvel Bethel
Ashley Boxer
Evan Boyar, MD
Broward Health
Coral Springs Auxiliary
Joy Crawford
Denison Yachting
Don and Kathleen Sokolik Charitable Fund
Glantz Law
Robin Glover
Mr. & Mrs. Mark Gordon
Carolyn Greenlaw
Heather Havericak
Insperity
Fred & Mary Kaub
Douglas Kegler
David & Liz Kofsky
Matt Korshoff
George & Laurie Labelle
Felipe Lafratta
Representative Chip & Eileen LaMarca
Las Olas Capital Advisors
Bob Loquercio
Jacqueline Mansfield
Tamika Maxwell
Mednax Services
MHG Insurance
NuView Health
Gabe & Allison Ocampo
Ocean Fresh Seafood
of Central Florida
Jill Paglia
Ann Payne
Pediatric Associates
Israel Penate, MD
Maria Pierson
Robert & Ann Powell
PYA
Horacio Randazzo &
Ana E. Calderon Randazzo, Ph.D.
James Sacks
Dr. E.E. Pete &
Nancy Seiler
Jared & Tracey Smith
Lottie Solomon
South State Bank
William Spencer
L. Jack Staley
Alice Taylor
The Alan and Marsha Levy Charitable Foundation
The Campbell Foundation
The Sager Family Charitable Fund
Tripp Scott, PA
Tropical Acres
Steakhouse Staff
Michael Ugval
Walgreens
Stewart & Carolyn Wechsler
Whole Foods
Heather Woolf
Your Office
Christian Zanartu
Zom Living
FRIENDS
($600 – $999)
Barry Abramowitz
Mary Adams &
Klaus Roithner
Lauren Alperstein
Brett A. Bauman, Esq.
Blayne Stout AIDS Fund of the Community Foundation of Broward
Jane F. Bolin, Esq.
Mark Bononi
Trish Burnett
David J. Clark
Adam Corin
Julie Doyon
Earth for All Fund of the Community Foundation of Broward
Sabrina Farmer
Alexander M. Fernandez
John & Karen Gardner
Thomas & Jean Giordano
Commissioner Nancy W. Gregoire Stamper, Esq.
Randy Gross
Jodi Halpine
Amy Inman
J.McLaughlin –
Fort Lauderdale #56
Pat & Karin Kerney
Jack King
Steve Lalchan
Sandra Mayor
Larry Meador
LaurieAnne Minoff
Commissioner Chris Pernicano
Ruth Piedrahita
Press and Grind Cafe
Kathryn Salerno
Larry Scheetz
Ellie Schrot
Daniel Villavisanis
Jessica Vones
William Walker
Megan Washington
Gaby West
Doug White &
Melissa Bottge White
Chuck Williams
Lori Wilson Brown